20 Jan 2008
PhotoAcute Studio 2.7 extends depth of field beyond lens capabilities
PhotoAcute Studio, the cutting edge software product for enhancing digital photos quality, now provides focus stacking functionality, allowing to take high-quality images with extended depth of field, with all the scene details in focus.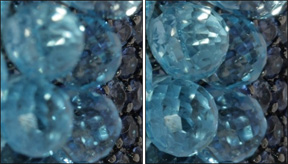 Depth of field is a range interval in front of a camera, within which the photo appears sharp. The classic way to extend depth of field is to take images using a narrow lens aperture. This solution has two serious disadvantages. Small apertures bring more light diffraction, degrading the image resolution and they reduce the light transmission, forcing the use of longer exposures, which leads to motion blur in the pictures. Also, even using the smallest aperture is sometimes not enough to capture the entire scene sharply.
The alternative way is to take several frames of the same scene at different points of focus. Each of these images has its own depth of field and they can be merged together, combining focused areas of each image and producing a resulting image with cumulative depth of field. This technique is known as "focus stacking".
Increasing the depth of field allows getting the images, which cannot have been captured even by advanced camera and lens. Using this technique is essential in macro photography and microphotography as well as in all situations when the very near and very far objects in the scene have to be captured acutely.
PhotoAcute Studio, the application that increases image resolution beyond the camera capabilities by merging several photos of the same scene, now provides focus stacking functionality. The application processes the images of the same scene taken at different points of focus and automatically produces resultant image with a greater depth of field than any of the source images has.
PhotoAcute Studio is able to merge misaligned images, compensating the scene movement, rotation and scaling. This allows processing the images taken without using a tripod. It is also able of merging the images taken at varied exposures.
PhotoAcute Studio supports variety of image formats, including RAW, DNG and TIFF.
Providing focus stacking functionality, PhotoAcute Studio becomes all-in-one tool for processing continuous photos, which increases image resolution, depth of field and dynamic range, and reduces noise, chromatic aberrations and geometry distortions.
PhotoAcute Studio runs under Windows, Mac OS X and Linux. Its user interface is quite simple and allows performing image processing in a couple of clicks.
Detailed description of PhotoAcute Studio features, online help and examples gallery are available at http://www.photoacute.com
PhotoAcute Studio 2.7 is available for free in trial mode. The price of the full version varies depending on supported camera types: starting from $49 for consumer cameras to $119 for DSLR cameras with the support of RAW format and 16-bit color. Users can get free licenses by contributing to PhotoAcute Studio development.
PhotoAcute Studio 2.7 can be downloaded at: http://photoacute.com/studio/download.html
About Almalence Incorporated
Almalence Incorporated focuses on developing the cutting-edge methods of digital image processing and innovative software products for enhancing digital images. Our mission is to provide the photographers with the software tools that will help them to achieve the best image quality. The company was founded in 2005 by the group of professionals with strong background in computer science, software engineering and management.