Tripod used. No profile. Windy weather.
There are three frequently asked questions about PhotoAcute Studio capabilities:
- Is PhotoAcute Studio useful without the profile for certain camera/lens?
- Can PhotoAcute Studio be used for processing the series of images containing the moving objects?
- Does PhotoAcute Studio work for series of images taken using tripod?
The answer for all these questions is the same:
Yes
. This example illustrates and explains it.
Five continuous RAW images were taken with
Canon 20D
camera /
Contax Vario Sonnar 35-70mm
lens, using a
tripod
. There was a movement in the scene - the trees were swinging in the strong wind. It is seen in the image below (the frames were combined into one animated gif):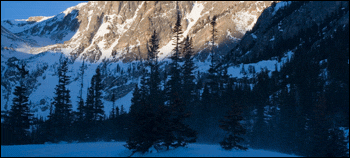 The problems and the solutions
1. PhotoAcute Studio superresolution feature is tuned to particular camera/lens. The Canon 20D / Contax Vario Sonnar 35-70mm combination is not in the list of supported camera/lens combinations. But it is still possible to try using the profiles made for other cameras/lenses. The "quick superresolution preview" feature helps us to evaluate several profiles without having to perform full processing for each profile. After trying several profiles we can find that using the Canon 400D/Canon EF-S 18-55mm lens gives good results for images taken with Canon 20D/Contax Vario Sonnar.
Then we will select this camera/lens combination to be used for processing (Settings->Camera).
2. Simply merging several images containing the moving objects, like the swinging trees, will make these objects blurred in the final image. To avoid this, PhotoAcute Studio has an option to take the moving objects from the first frame.
3. For superresolution processing, the images should not be pixel-to-pixel coincident lest the whole set of images have the same graphical information than the single image has. Does this makes it impossible to apply superresolution processing to the images taken using a tripod?
No, because even if a tripod is used, there are effects that make the images not pixel-to-pixel coincident - for example, the shutter shake.
The images processed in this example were taken using a tripod and mirror lock-up, but they were still not coincident. The displacement of the pictures is less than a pixel, but it is enough for superresolution!
Results
Below you can compare three fragments of the original image and the result of PhotoAcute Studio processing. The results of processing obviously contain more details. The parts containing swinging trees were not spoiled after merging the images.
| | | |
| --- | --- | --- |
| | | |
| Original image, bicubic zoom 200% | | PhotoAcute Studio processing result |
| | | |
| --- | --- | --- |
| | | |
| Original image, bicubic zoom 200% | | PhotoAcute Studio processing result |
| | | |
| --- | --- | --- |
| | | |
| Original image, bicubic zoom 200% | | PhotoAcute Studio processing result |
Photographs © Paul Wegemann.