Noise-free HDR: expand dynamic range and get rid of the noise
Special method of dynamic range expansion allows to remove the noise from HDR images.
Dynamic range expansion by blending several images taken at different exposures is well known, adopted by photographers and implemented in a number of software tools. However, while the exposure blending works well for creating HDR images, further tone mapping often produces the images with a lot of noise, especially in dark areas of the scene. The amplification of underexposed pixels fills the shadow areas with noise, which lead to the loss of details and textures.
New advanced weighting technique, implemented in PhotoAcute Studio application, solves this problem. The algorithm weights each pixel in each image determining how properly exposed the pixel is, and never places underexposed pixels into the output image when better-exposed pixels are available from other images. Properly exposed pixels are then blended to reduce the noise even more. Additional processing is applied then to analyze the picture and prevent any artifacts.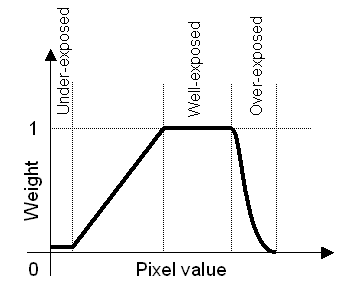 The weighting curve shown above is applied to the original images. There are distinctive areas on this curve:
- the least weight is given to the severely underexposed pixels;
- maximum is reached for the pixels that have seen good exposure;
- overexposed pixels are also attenuated, the attenuation is heavier as pixel value approaches the clipping limit.
Precise shape of the weighting curve is adapted according to ISO and noise level of each image.
The same functionality can be used in usual (not HDR) photography to eliminate the noise even from the deep shadows of the images. Take two shots of the scene - one normally exposed and the other overexposed by about +3Ev. Then blend the shots using PhotoAcute HDR function. PhotoAcute provides precise image alignment, so it is not required to take pictures using a tripod.
The examples below compare two workflows:
"Generic HDR" - creating HDR image and further tone mapping using one of leading HDR tools;
"Noise-free HDR" - creating HDR with
PhotoAcute Studio
and further tone mapping with the same tool used in "Generic HDR".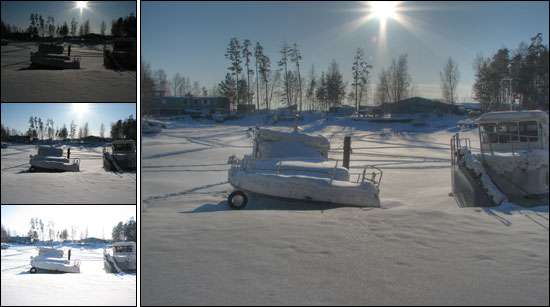 Three photos taken with Ev +2 step, merged in HDR image and tone mapped.
Generic HDR

Noise-free HDR




Generic HDR

Noise-free HDR




Generic HDR

Noise-free HDR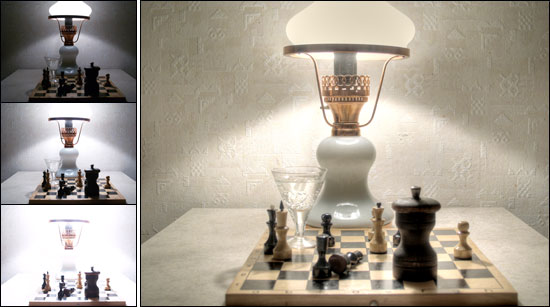 Three photos taken with Ev +3.5 step, merged in HDR image and tone mapped.
Generic HDR

Noise-free HDR