To achieve better resolution and sharpness, PhotoAcute Mobile processes several continuos photographs of the same scene to produce one photograph. A number of modern mobile phones support "sequence mode" (also called "continuous mode"), which allows taking several photographs in series, one after another.

Once the phone is switched to the sequence mode, you can take several pictures in series holding the capture key.
Please refer to your phone's manual for the details about using the sequence mode with your phone model.


Selecting and processing the pictures

Launch PhotoAcute Mobile. It automatically detects sets of continuous photographs. You can edit the groups of pictures (append and exclude pictures from the group) and create new groups.

Once you have selected the group for processing, click Options->Start Processing.

When the processing is finished, you can view the resultant picture.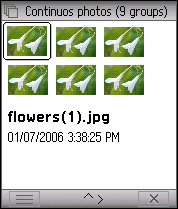 After processing, the resultant photograph is placed into the standard Photo Album / Media Gallery of your smartphone. You can transfer them to a PC, send as an MMS, use as the wallpaper, etc.